First Christmas With A Newborn Child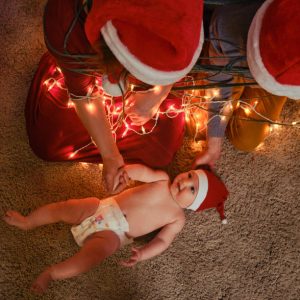 Are you trying to figure out the best ways to celebrate your first Christmas with a newborn baby? Welcome. In this post, you will learn everything you need to know to have a wonderful Christmas celebration with your newborn.
Celebrating your first Christmas with a newborn can be such a wonderful experience for you and a milestone in the life of your adopted child too.
Every Christmas season is always a time to reflect and focus on the most important things in your life and that of your family and this very season will be memorable for you because it is your first Christmas with a newborn baby.
The question is how should you make this baby feel relaxed and better this Christmas? I have the answer.
I have selected a few tips to guide you as you make the newest member of your family have the best of the season.
Let's dive in.
How To Celebrate Your First Christmas With A Newborn Child.
1) Invite Some Friends And Family:-
Children are always happy when they see other children around. Have considered why your child will sometimes smile when they hear other children playing around them.
They may not understand whatever is happening around them, but they can hear the children's voices and understand them too.
There if you want to enjoy your first Christmas with a newborn, then make the baby have some people around on that day.
2) Keep It Familiar And Have It On A Low Key:-
It is a thing of joy to have Christmas with your newborn and you want to lavish your love on him/ her, but will be better to have this first Christmas on a very low key.
The reason is that many of these children have had different experiences before joining your family, so be careful to avoid unwanted circumstances.
If your child has had a bad Christmas experience before joining your family, then you may be causing a problem if you make another mistake.
My advice is that you remove every surprise you intend to bring in this first Christmas with a newly born baby and keep everything since, instead of bringing anything that will threaten the child's feelings and remind them of the past.
You can improve gradually from the next Christmases, remember you want the child to be happy and not to cause a problem.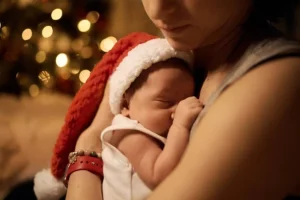 3) Have A Christmas Holiday Game Plan:-
Now that you know the essence of keeping your first Christmas with a newborn baby simply, it will enable you to plan the best game plan for this holiday.
The essence of planning this on time is to know to make things easy. At least you know how hard it is to decide where to go or how to spend the holiday with your spouse, talk less now that you have a new baby.
It may not be very easy again if you don't decide now. Therefore, call your family together today and let them choose where to go for the holiday celebration. The baby will like whatever you choose as a family.
4) Split Your Planed To Suite Each Day:-
It is important to plan for the whole Christmas holidays, but the most important is that you plan each day.
Not having a routine for each of the Christmas holidays can get the entire family uneasy and not cope but having a routine activity like where to be at a point in time or what to eat at a time can help the cope easily.
Plan each day in such a way that each day will have different activities and different course meals, and be sure to invite people as that will make the atmosphere familiar and interesting too.
5) Visit A Santa And Have Pictures:-
Before you design the holiday to suit you and your family, remember that this is your first Christmas with a newborn baby and so the plan must be made to suit her more.
Therefore plan to take her to see Santa Claus and have pictures with him. The joy that comes with the visit and the picture can not be measured, especially when you remember that it was the first Christmas with your new baby.
Looking at the pictures in the future will always remind you of the day and the baby will also be happy in the future when she understands it was her first Christmas with the adopted mother.
6) Spend Time With Your New Baby:-
This is your first Christmas with a newborn baby so why not spend a good time with her?
Dedicate one of the festive holidays for the child; no phone, no television, and no shopping. It is just a good day to bond with your baby.
7 Buy Special Gifts For The Baby:-
Have you considered getting something special for your child? If not, I think it will be nice to look for something that can last long for him.
Toys are good, you can get teddies too, but that special gift like a tiny golden wristwatch and ornaments will make much more meaning to the baby's life than those little toys and it will stand a taste of time.
8) Create Some Christmas Cards:-
Design some beautiful Christmas cards and send them to your family and friend on behalf of the newborn baby.
The card may not be too wonderful, but make sure the text on the card drives a message home to the reader.
Make sure that all your families and friends receive it. Keep one of the cards to show your baby when she grows up. While you will always remember your first Christmas with a newborn baby, your child won't forget her first Christmas with her new and wonderful family.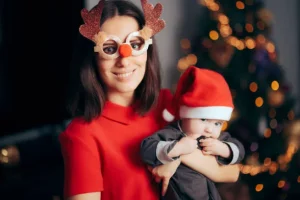 9) Don't Forget To Snap Family Pictures:-
You may be carried away by the zeal of having a wonderful first Christmas with a newborn child that you forget about snapping your family pictures.
Pictures speak volumes and family pictures will always speak whenever you pick it up and see all your family represented in it.
Having the face of your child appears in the picture you snapped this Christmas will bring joy and good memories to you and the entire family.
10) Start A Family Tradition:-
This first Christmas with your new baby could be best the time to create your family tradition. You can introduce all you've learned from your childhood to your new family.
You can as well introduce new ideas entirely, all you want is what will always bring joy to your entire family.
It can include going for a fishing competition, picking a book to read, doing a community help job, or anything your family prefers.
Your new family, though small and inexperienced could be learning something from all your family traditions. Children learn very fast, so don't underestimate what you are doing now.
11) Buy And Read Books This Christmas:-
Is a few days to Christmas, so I will advise you to start gathering some interesting Christmas books for your baby.
Read one every day to your baby. She may not understand what you are reading now, but the truth is that you are teaching he that you love her and how important it is to read.
Make it a tradition. Read Christmas books and other interesting books every Christmas for your baby.
12) Take Care Of Yourself Too:-
Don't forget to take care of yourself as you are bent on making your baby happy this Christmas.
This is also a good time for you to take care of yourself. Do whatever you love to do like visiting your friends, going to a five-star hotel and changing your wardrobe, exercising, and listening to music s.
Life is too short to stress yourself so much without relaxing. If your child is happy to celebrate their first Christmas with you while you are stressed, then you haven't achieved anything.
In Conclusion:-
Do whatever you can to make this Christmas enjoyable for you and your entire family in general and your newborn baby in particular.
However, remember you can't get everything right this first time. Let this be the introduction, subsequently, you will know the new Christmas ideas that will work for you and your family.
See you at the top.
I am your in-house counselor Murphyaik.